Taking some moments from the necessary tasks
on this day before the holiday
to make a random list of some BIG things for which I am deeply grateful
and a few
little
things that make me happy.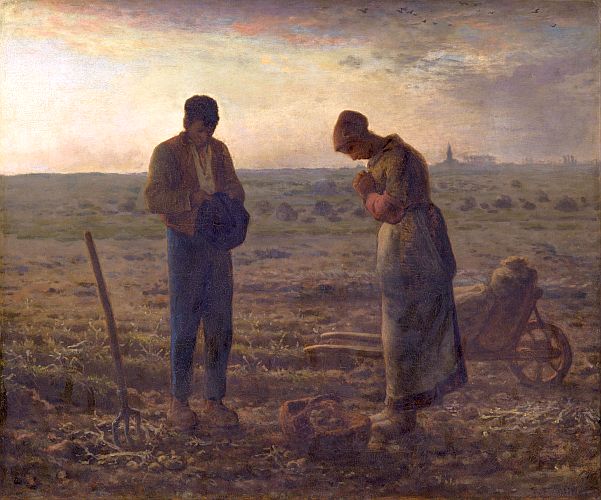 ~ a copy of this painting by Jean-Francois Millet, originally entitled
Prayer for the Potato Crop
and later named
The Angelus
, that was given to us by my parents nearly thirty years ago and hangs on our dining room wall
~ our daily bread
~ the smell of pine trees and damp earth
~ the "e" tattoo on my left wrist, especially now since the livestrong bracelet I'd worn since 2006 broke, and nothing ever feels like the original...
~ a 30 year marriage (it seems a rare commodity these days) that sometimes rocks and rolls with the punches that the sickness and death of a child brings (which adds more weight to those odds against us), with a man who now walks by the same empty spaces in the house with me each and every day, and with whom I share a path toward the future
~ my rain machine
~ a heated corn bag to warm my bones and settle my nerves
~ snowflakes
~ 18 years, 7 months, 4 days, 9 hours and 5 minutes of Erin
~ three all-grown-up kids who are healthy, independent and living full and happy lives, who all get along with one another and who still want to come home
~ the first sip of hot coffee in the morning
~ our modest house which we've made a comfortable home, with so many personalized nooks and crannies that make it a special place
~ flames dancing in the fireplace and casting a welcome hypnotic spell
~ other moms I've met on this path, who are living the life they wouldn't choose either, yet here we all are supporting one another
~ the sweetest dog in the whole wide world
~ music and books
~ honey crisp apples, oh my gosh have you tried them?
~ ok, McDonald's fries and mocha frappes too
~ the community that surrounds us, whose steady generosity shored us up during the most difficult times imaginable, and whose spontaneous acts of thoughtfulness continue to remind us that we're not forgotten
~ a foot rub
~ Erin's friends who invite me to be a part of their lives
~ piles of photographs, with each snapshot telling a priceless story
~ big bodies of water; the ocean, a lake
~ butt warmers in car seats
~ the journals of gratitude that Erin and I faithfully wrote in for two years
~ paint swatches; so many colors - so little time :)
~ bamboo sheets
~ Erin's eyelashes
~ family and friends who understand that I'm not who I once was and accept who I've become, who can speak Erin's name in my presence without hesitation, who cry with me and laugh with me and love me for who I am
The memory of last year's Thanksgiving;

one perfect day in so many ways,

safely tucked between a Wednesday spent at the hospital with drugs and radiation for pain control

and a Friday when the bottom dropped out before our eyes.




A day when Erin felt great, and was so beautiful and confident

and generous and helpful and happy.
A gift of a day.
A day filled with the typical antics of older brothers.
A day of love between sisters.





A perfect day...
Peace to all of you on this most beautiful of holidays.
Please take a minute to share a BIG thing for which you are grateful or a
little
thing that just makes you smile :)
Thanks.